Dataman Real Estate Accounting Software has been specially built to cater to the specific requirements of real estate industry. It comes in the form of a module which has been tightly integrated with all the other modules of Dataman Real Builder ERP Solution. This Construction Accounting Software enables you to track financial data of your real estate business venture easily and effectively. It has everything you expect in a comprehensive, and powerful accounting software for real estate developers. Using this advanced solution you can easily automate accounting functions of your real estate business venture.
Moreover, you can accomplish multi company and multi-site accounting, as well.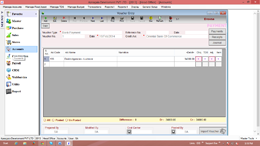 This real estate accounting software has been equipped with user friendly accounting process and allows you to maintain financial year wise transaction details. You can track and plan funds, generate vouchers with authorization, do auto calculation of TDS, VAT, and other taxes before payments. It can also maintain Bank Reconciliation and Cheque Return Status. So by using this Finance Module from Real Builder ERP Solution you are able to effectively do project costing, estimation, Budget and its Variance management as well as revenue recognition. It is an all-in-one solution for your real estate accounting needs.