If you are on the look out for Construction CRM Software then Dataman Real Estate CRM Software is the ultimate software solution that you can have for your organization. It is a comprehensive solution designed to meet the expectations of real estate professionals. This Real Estate CRM has been equipped with features to provide you with a versatile knowledge base of all your projects. It comes integrated with Dataman Real Builder ERP Solution in the form of a module and helps you to accomplish all the regular events of real estate crm.
It ensures that you go onto build your customer good will and achieve brand enhancement.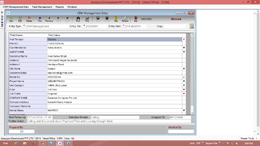 The Real Estate CRM Software takes care of various tasks such as Sales Scheduling, Sales Force Monitoring, Broker Management, Customer Profile Management, Prospect wise Expense Analysis, and many other tasks as well. It allows you to maintain improved client records. You can track events, follow up and can even do performance analysis as well. All-in-all, it lets you to organize your real estate business easily and helps you to increase your efficiency and profitability.