The Machine Module of Real Estate Construction ERP- Real Builder covers all aspect of Plant and Machine Maintenance. It manages Equipment/ Component/ Machine history; Log Report of Equipment/ Vehicle; Provides Daily Running Report of all equipment in use. This Powerful Module maintains complete data of Machines and Equipment deployed in your Multiple Projects along with Machine Maintenance Records that keep a tab on Servicing/ Repair Activities.
A constant check on Service Due Reports ensures optimum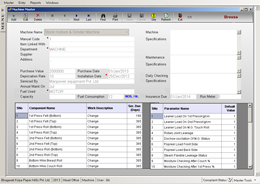 performance of machines. In the worse situation of a Machine Breakdown, it maintains its complete report to avoid repetition of such event in future. Fuel and Spare Consumption are kept always in check to increase Productivity, whereas, Machine Wise Cost of Operation supports Operational Efficiency of Construction Sites. Not to forget, Real Builder also Tracks Complaints to help them resolve early to enhance Branding.