Sales Management module of Builder Management ERP- construction software is a very useful software solution for builders, promoters and Builder developers. It maintains all sales details of all your projects with perfect ease.
Be it Multiple payment plans with Payment details (unit wise) and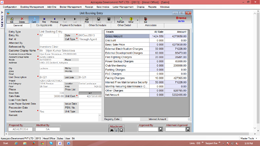 auto generated receipts; Price lists of multiple units, Unit booking (linked with CRM) and it's Transfer & Cancellation Mechanism; Details of Payment due and Auto Discount Calculation in case of Timely Payments; Generation of booking / Demand / possession Letters; all are handled by this module with ease & can be retrieved whenever / wherever needed!
Key Features:

Define Multiple Unit Price List and Schemes.

Unit Booking Linked with CRM.

Define Customer wise payment Schedule.

Unit Transfer and Cancellation Mechanism.

Generation of booking/ Demand/ possession Letters.

Payment Recovery on time.

Auto Discount Calculation for Timely Payments.

Unit status display & Unit wise outstanding.

Provides an insight to Unit-wise Customization details.

Interest calculations on outstanding is another business benefit that Sales module of Real Estate ERP- Real Builder provides.